Demon Hunter Kain Chapter 6 Page 81
on
December 5, 2016
at
12:05 AM
WE'RE BACK!!! Demon Hunter Kain Chapter 6: The Boy Called Kain, Page 81 is up!
Safe, but not whole…
---
SPIDERFOREST COMICS OF THE WEEK 2016
---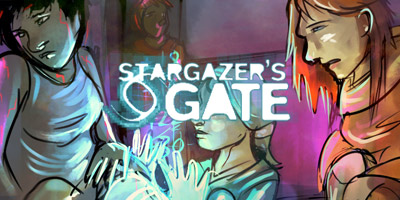 "Stargazer's Gate" by Tiana. Atrina Vilanar discovers an alien civilization on the other side of a strange gate! Alien to Atrina, at least. People on the other side seem to recognize her. Back home, Leawyn still believes Atrina is alive, and will do anything to find her.
---
"Storm and Desire" by Scotto and Eddie. STORM AND DESIRE is an epic sci-fi/fantasy adventure comic about three women whose fates collide: WYNDERIA, a scientist-musician & interdimensional explorer; LORELEI, a cyborg translator & occasional singer; and ANJETTE, an intelligent weapon system & occasional sorcerer. Together they set out to learn the secret history of the multiverse…
---
SPIDERFOREST COMICS OF THE PREVIOUS WEEKS 2016
---
"Spare Keys" by 4LS. Your local Specialists are Toby Hathaway and Marion Sark.
Highly experienced and skilled professionals, experts at handling the uncanny, supernatural and subnatural. Some experience of the natural, but discussion of your exact needs is advisable. Specialities include visitations, disappearances, compulsions, manifestations, transformations and removal of uninvited guests.
Pricing is on a case by case basis; please contact us for further details. Your complete confidentiality is assured! Please note – not available for speculative seances.
---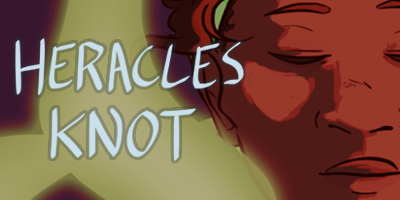 "Heracle's Knot" by Milia. The perils of adopting 20-somethings and throwing them at monsters.
---
"Cast Off" by Star. After getting kidnapped and dragged halfway across the world, scaredy-cat Vector finds himself a long, long way from home. Now, with the help of a short tempered bounty hunter, a happy-go-lucky cartographer, and many more unlikely friends, he has to try and make it home in one piece.
---
"Sons of the Forgotten" by Sotf.
---
"Soul's Journey" by Kyu. A prince finds himself trapped in a wolf's body after running away from home. While his country is at the verge of war with two neighbouring states, Anrak has to figure out the nature of his current condition and find a way to reverse it, so he can regain his actual body and prevent a conflict he so carelessly set in motion.
---
"LaSalle's Legacy" by Bukittyan. Jonathan LaSalle admired his deceased father and became captain of a merchant ship to be just like him. Then his half-brother Jared comes into his life, telling him of a zombie pirate who very much would like to see both of them dead thanks to their father's actions. Jonathan and Jared need to overcome their mutual dislike of each other and work together to defeat the zombie pirate.
---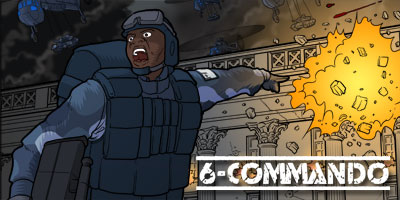 "6-Commando" by Mr. Average. When Major Sarah Bronniford is captured while on a tense Cold War mission, her comrades send their robotic tank Mike to rescue her. But Mike carries out his mission too well, and accidentally turns a crisis into an all-out atomic war. When a heavily-damaged Mike returns from his mission with Sarah wounded but alive, they both begin to exhibit strange and unpredictable behavior – and some dangerous new opinions about their mission.
---
"Demon Archives" by Dan. 100 years after WW3, Minerva is a lone beacon of civilization in the chaos of central Asia. Their technological superiority has guaranteed peace for their citizens and power in the area. But when that superiority is suddenly challenged, everything starts to fall apart.
---
---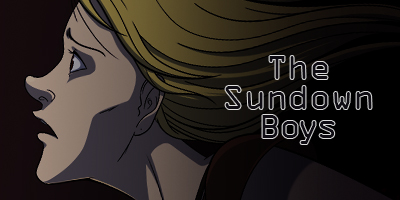 "The Sundown Boys" by Emma. Nineteen-year-old Adrienne, heir apparent to the expansive DeSaule Organization, finds herself targeted by her adoptive father's only biological child, Edmund DeSaule. No longer safe in the only home she has, Adrienne flees the DeSaule Space Station in search of help. Brothers Leon, Robert, and Geoffrey Heron are the only people in the galaxy that Adrienne knows she can trust. Unbeknownst to them, Adrienne is hurling through space in their direction, and she's about to ask them for one hell of a favor.
---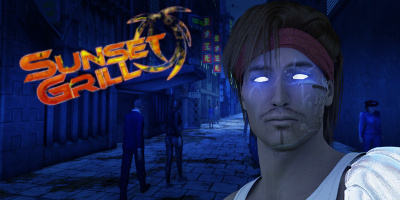 "Sunset Grill" by Kat. The year is 2426. Earth is a patchwork quilt of restive, squabbling Domains, loosely joined under the mantle of the Empire, whose primary goal is to present a united front to the dozens of technologically advanced, land-hungry, and not particularly moral alien races. The Empire controls the Sol weftgate, humanity's connection to the galaxy at large: through it goes a steady stream of cheap labor, gone to build, clean, or kill for the wealthier races, and through it comes the money and alien technology that fuels much of Earth's economy.
None of which matters particularly to the patrons of the Sunset Grill, a bar on the shady side of town in the run-down and corrupt city of Kieselburg. They're too busy staying alive. Because no matter what the year, there will always be those on the fringes struggling to survive. And no matter how distant, how strange, or how advanced the place, there will always be someone to ask that all-important question: "Hey, where do I go in this dump to get a decent beer?"
---